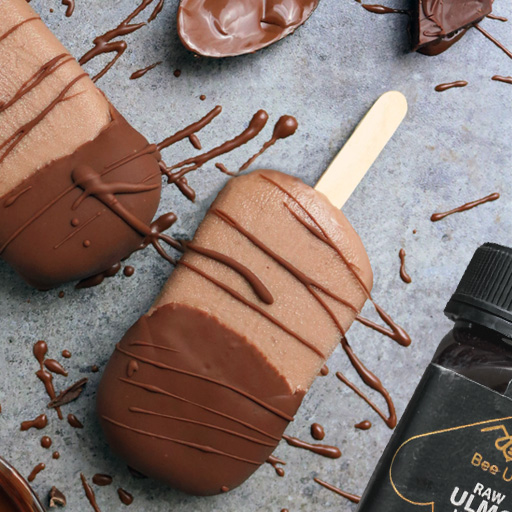 Enjoy magnum bars without overloading on added sugars! 
Packed with all the right ingredients, this recipe is the perfect delight for both your taste buds and overall health.
200gr sliced almonds
2 tablespoons or 30ml melted coconut oil
2 tablespoons of BEE ULMO Honey.
1 teaspoon or 5ml vanilla extract
120ml almond milk
20gr unsweetened cacao powder 100%
50gr chocolate protein powder
100gr dark chocolate (at least 80% cacao)
Blend sliced almonds with vanilla extract, coconut oil and almond milk in a food processor.
Once completely blended and smooth, transfer to a bowl and add the cacao powder, BEE ULMO Honey and protein powder and mix until fully incorporated.
Pour into a silicone ice cream mold and freeze for at least 3 hours.
Melt dark chocolate in a bowl.
Remove the ice creams from the molds and cover them in chocolate.
Store them in the freezer for at least 30 minutes and they will be ready!
* Store them in the freezer and remember to take them out of the freezer at least 10 minutes before eating otherwise it will be very frozen and maybe too hard to eat immediately.